A confluence of anniversaries and birthdays with our best friends was the impetus for an amazing weekend in the mountains recently.
Friday Dinner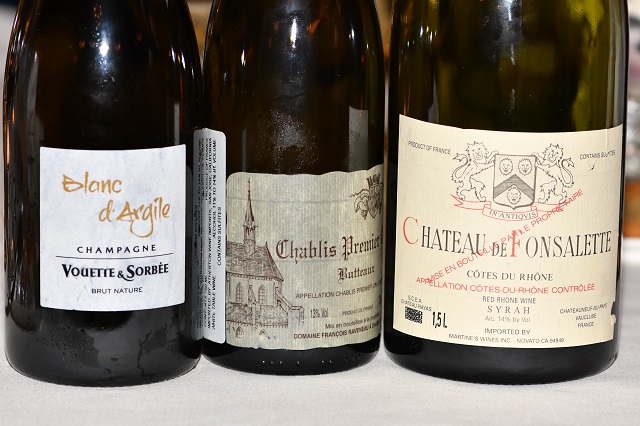 Champagne Vouette & Sorbee Blanc d'Argile Brut Nature
– Did not note the release or disgourement. Having read the numerous notes here on the board I was happy to have the opportunity to try this. Love the very dry style that attacks the palate in a powerful yet pleasant way. Me like.
2012 Domaine Francois Raveneau Chablis 1er Butteaux
– White flowers and citrus. Nice mineral line. As always with Butteaux a hint of creaminess on the palate. Wonderful start to the weekend.
2007 Chateau de Fonsalette Cotes du Rhone Syrah en Magnum
– Oh my! I knew of this wine. A rare bird. Maybe only a barrel made in a given vintage. Syrah in its most perfect form. It does not display the meatiness of a Cote Rotie but has a kaleidoscopic range of deep dark and flints of red fruit across a very broad spectrum. Constantly shape shifting with time. IMHO, a perfect wine. We saved half for the following night dinner. Awesome!
Saturday Dinner: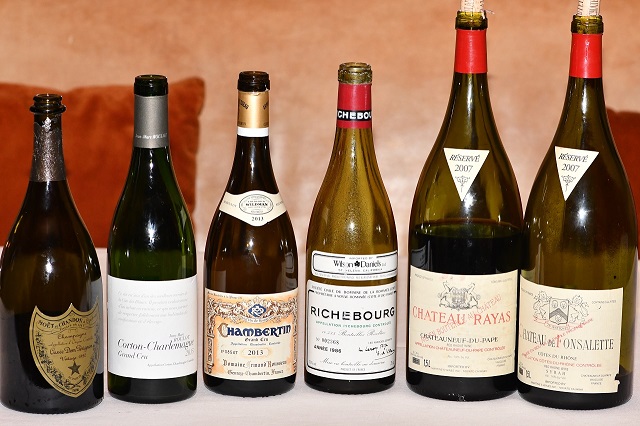 1990 Dom Perignon
– The cork was stubborn and once extricated, solid as a rock. Usually not a good sign but thankfully the bubbles were in fine form. From a full case in our friends cellar the provenance was ideal. This bottle was a great example of why you age top champagne such as Dom in a great vintage. Quince, spice and toast. Smoke and mineral on the finish. One glass each and the rest belongs to my wife.
2015 Jean-Marc Roulot Corton Charlemagne
– In the past I have thought that Roulot's Meursault Perrieres was stylistically my preference from his stable. This may have changed my mind, at least for 2015. A ripe vintage but this wine was amazingly restrained. Chalky mineral spine dressed in a dense fruit robe. This evolved on the course of the dinner gaining density. A fine Corton Charlie.
2013 Armand Rousseau Chambertin
– A treat to drink at any age, the 2013 Chambertin immediately lets you know you are at the highest level in Burgundy. My gosh what a complete wine. So balanced with endless depth on the palate. Not a stitch out of place. What could be better?
1986 DRC Richebourg
– Taking the way-back machine some 27 years, this is a wine that places you into the aged red Burgundy comfort zone. Earthy nose with ripe red fruits. Strawberries in every imaginable variety. Not a heralded vintage but this was a real joy to drink with dinner.
2007 Chateau Rayas CNdP en Magnum
– I was a bit trepidatious about how this wine was going to perform. I'd had several regular bottles not long after release and was underwhelmed and somewhat disappointed by what, at the time, seemed to be showing over-ripeness and pruny-ness. Very atypical for Rayas. I was so pleased drinking this magnum. It showed none of that. Maybe just needed time to absorb its baby fat. This was pure red fruited Rayas at its best. Half was saved for Sunday brunch.
2007 Chateau de Fonsalette Cotes du Rhone Syrah en Magnum (part deux)
– Could this wine improve from the previous night's dinner? Certainement!! The wine was deeper, wider and longer. A 3-dimensional expansion. Oh seeing the last of the bottle poured.
Sunday Brunch: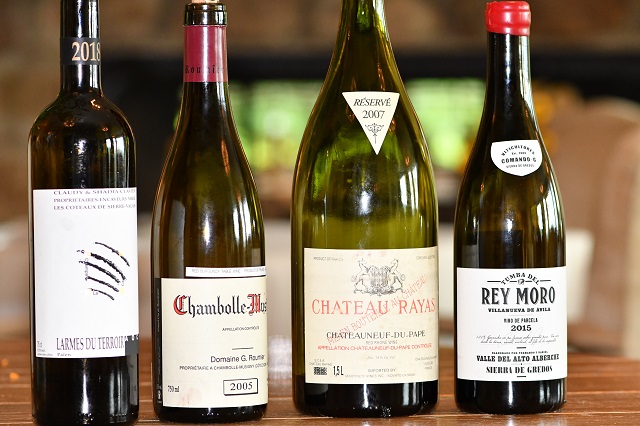 2018 Claudy Clavien Larmes du Terroir Paien (Savagnin Blanc)
– A perfect start to our brunch, this is a Swiss wine from the Valais. Interesting clonal variations being grown there. This was really fresh and unlike Savagnin from the Jura. Very floral and refreshing on the palate. (On a humorous side note, the label lists the proprietors as Claudy & Shadia Clavien. They obviously have a lot in common.)
2005 Domaine G. Roumier Chabolle Musigny
– Ah one more Burgundy and this one punches way above its weight. At 15 years of age you would think a village C-M would be on the retreat. Not here. Fresh as could be with a nice mélange of dark and red fruits and surprising length.
Now it was really cool drinking the next two side by side:
2007 Chateau Rayas CNdP en Magnum (part deux)
– Once again there was notable improvement on the second day. Not quite the expansion experienced with the Fonsalette but it was Rayas in all its red-fruited grenachy glory. More floral and mineral on the palate. A close your eyes wine, but yet, just nipping the Fonsalette heels.
2015 Commando G Tumba del Rey Moro
– Distinctly different from the Rayas but in the same spectrum. More sweetness to the fruit. Darker and loads more exotic spice. Orange rind and rose petal. Good minerality. Noticeable yet spherical tannins on the finish.
A great end to a wonderful weekend.