Cannot think of a better pairing. Got together at the home of great friends whom the Mrs. happens to be an amazing cook. The dinner was duck cassoulet with with three types of sausage and gigante beans cooked over several days. Delicious and filling!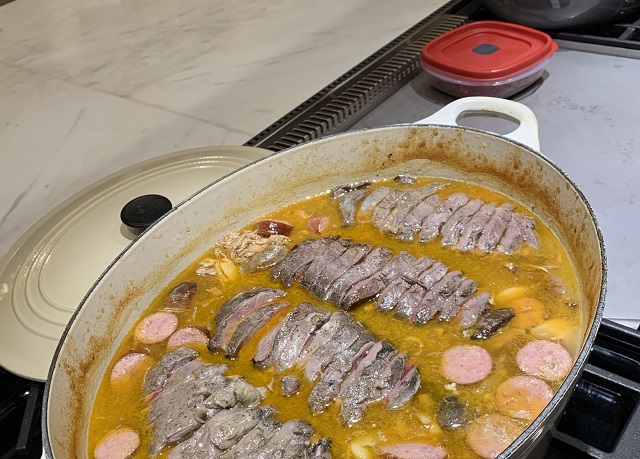 We started out with Krug Rose in magnum. Our guests served the champagne in coupes. At first I was not sure it was the best for the Krug but it turned out to be a great glass for the Krug power.
With giant chilled shrimp was the 2011 PYCM Corton Chalemagne GC. Outstanding showing. Mature, rich but plenty of edge and minerality.
With the cassoulet, three outstanding red wines:
2005 Gaunoux Pommard 'Grands Epenots' 1er
2009 G. Mugneret-Gilbourg NSG 'Les Chaignots' 1er
2009 M. d'Angerville Volnay 'Fremiet' 1er
Everyone one of these wines served as a perfect match with the cassoulet. The Pommard was surprisingly open with ripe and sweet tannin. The M-G NSG was open displaying the M-G balance and elegance. The Fremiet was singing. Each one after a bite expressed a different component in the complex dish.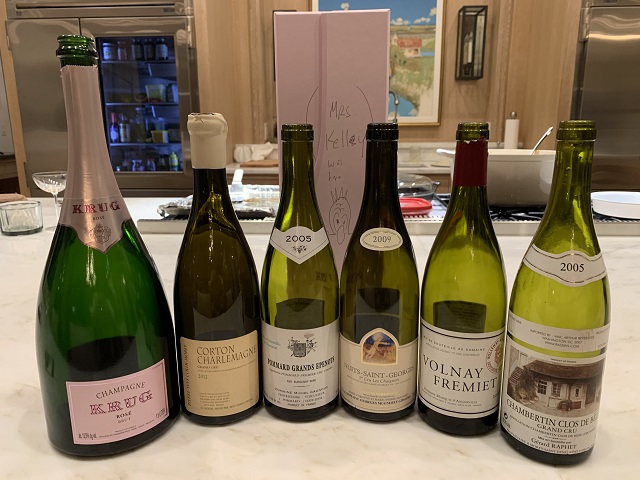 Finally, with the cheese, dessert and after dinner nibbles:
2005 G. Raphet Chambertin Clos de Beze GC - Complain all you want about the decidedly un-Burgundian looking label, this was a perfect way to end the evening. Unmistakably Beze in presentation. Dark with rich fruits and lovely long spice finish.
Great way to usher in the fall season.